Surf Spots Algarve
Discover the best surf spots of the Algarve - the South of Portugal has it all.
Top surf spots on the Algarve
Surf Spots Algarve –  a surf destination out of the books
The top surf beaches at the Algarve stretch from Faro all the way across to Arrifana! Whether you're looking for beach breaks, endless mellow walls or the perfect wave to learn how to surf, you'll find the best surfing spots here in the South of Portugal.
The west of the Algarve is situated next to the Atlantic Ocean, which brings us waves all year around. In Portugal's Algarve, every day is a possible day for surfing and this is quite unique in the sport of surfing. There are many other places to surf around the world which are not able to guarantee you that. If we believe what the Portuguese tourist authority is saying,  the Algarve in Portugal has the best waves in Europe.
Depending on the swell, we can surf at the famous west coast or catch some perfect ones close to our camp around Lagos in the south of Portugal. The South has it all. Join us for surf lessons or surf guiding and we take you to those places.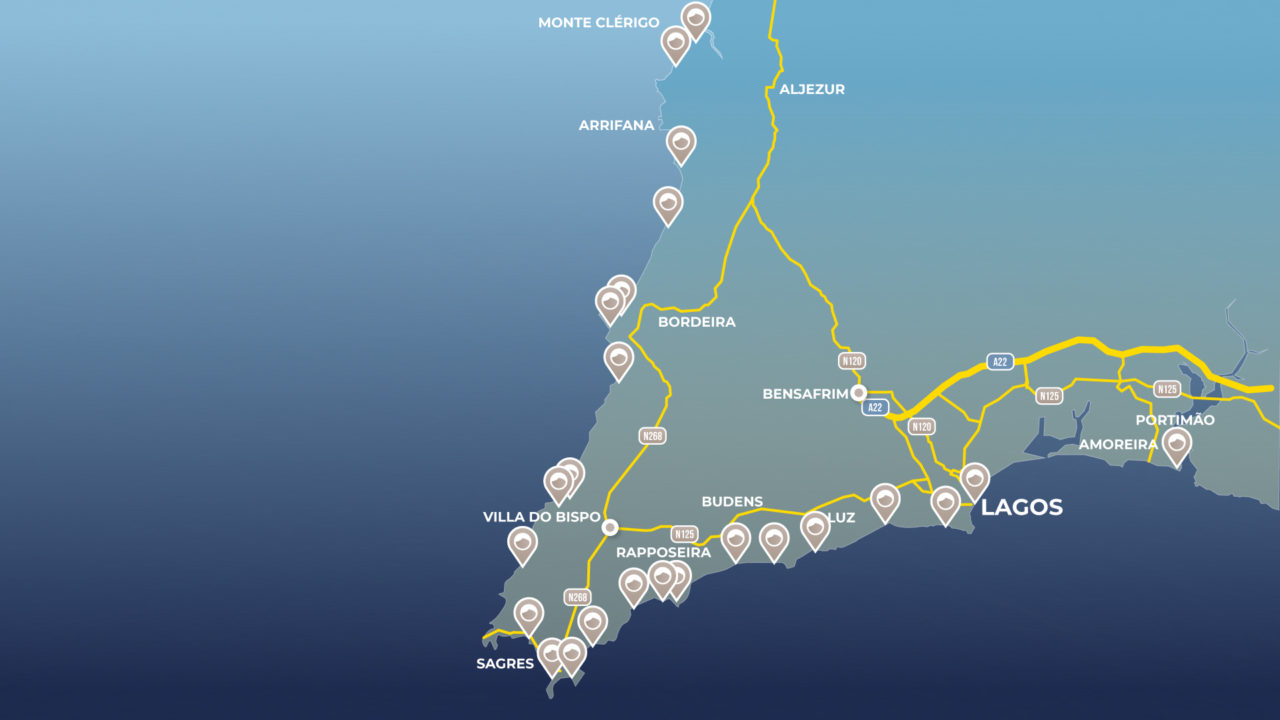 When to surf with TSE at the Algarve
As we just mentioned we have waves here 365 days a year. But the best timing for your stay with us at the Algarve depends on your travel plan:
Are you joining us surfing here at the Algarve and you want to get some sun in general, then probably anytime between May and October is best for a visit.
Are you coming to the South of Portugal for a week or two of surf lessons, then basically any month between April and November will work out for you
Are you an independent experienced surfer, and are you looking for the biggest waves? Join us in April, Mai or during the autumn and winter month. But be aware that we also get big summer swells.
In general, the waves tend to be bigger in the spring, autumn and winter than in the summer. The winter here in Lagos is quite mild and usually feels like spring. The water here down south still has a very comfortable temperature. The most important thing to surf and stay with us here at Portugal's Algarve is to always bring sunscreen, as the sun can hit quite hard, even in the winter.
COMBOS FOR EVERYONE
PACKAGES
The wild beauty of the Algarve completes these packages and makes the camp one of the most atmospheric places in the world. To make sure you'll get the most unique, inspiring and fun holiday, we've created some packages for you - one for every budget and lifestyle!