Surfschool
TSE Surf School in Portugal: Join our surf lessons, we teach you all: Beginner, intermediate and advanced surfers all ages. You can join our surf school also if you're staying around Lagos.
Learn how to surf in Portugal
Surf School in Portugal since 1995
Join our surf courses with a surf lesson in a group our take private surf lessons. If you are a beginner or already have experience in surfing the surf coaching will suit you best. We make sure that you learn how to surf in a safe and supportive environment. Let our experienced surf coaches take you to the beautiful and unique beaches on Portugal's Algarve. Here in the South of Portugal, we are blessed with loads of sunshine and surf conditions which are good all year round. We offer surf courses for everyone – you don't need to stay with us in our surf camp. 
Surf Lessons and Surf Coaching
We've been having surf lessons for first-time surfers around Lagos in Portugal since 1995 and even the most landlocked individuals leave the surf courses with a taste for saltwater and a smile on their faces. If you want to learn how to surf without pressure or fear of failure, then join our surf school – safe learning with a focus on FUN! Our surf instructors will teach you the basics in practice and theory. Our coaches are always there to offer advice on the beach and in the water.
To ensure you get to surf waves suited to your ability we implement a surf level system. This helps us pair you with a surf group seeking the same type of waves and coaching experience. We teach beginners, intermediates or advanced surfers of all ages! Our team of professional surf coaches and system of levels sets us apart from other surf camps.
Surf Courses in Portugal
We teach all Levels
Beginners
The Algarve offers many beach breaks – perfect conditions for beginners to catch your first green wave and improving your take-off.
Intermediates
There are many perfect waves close to our homes or a bit further away. Surf with us – it will push your skills and perhaps make you an advanced surfer by the end of your stay.
Advanced Surfers
Of course, you will also get your money's worth here. Even a south swell can bring us 4 feet waves close to our camps. And don't miss the legendary breaks on the west coast!
Best Surf Guides, Food and Atmosphere!

As always a great stay, great surf lessons. I´ve been here the 5th time and I will come back. The staff is great and friendly. Surf lessons are for every level.
Great Times

Had an amazing week in Algarve. Super happy with the whole experience and recommend it to both beginners and more advanced surfers.
Intermediate surfers can improve quickly

I was staying with TSE for one week. I'm an intermediate surfer with the goal to improve my skills. I can totally recommend TSE, had a great time.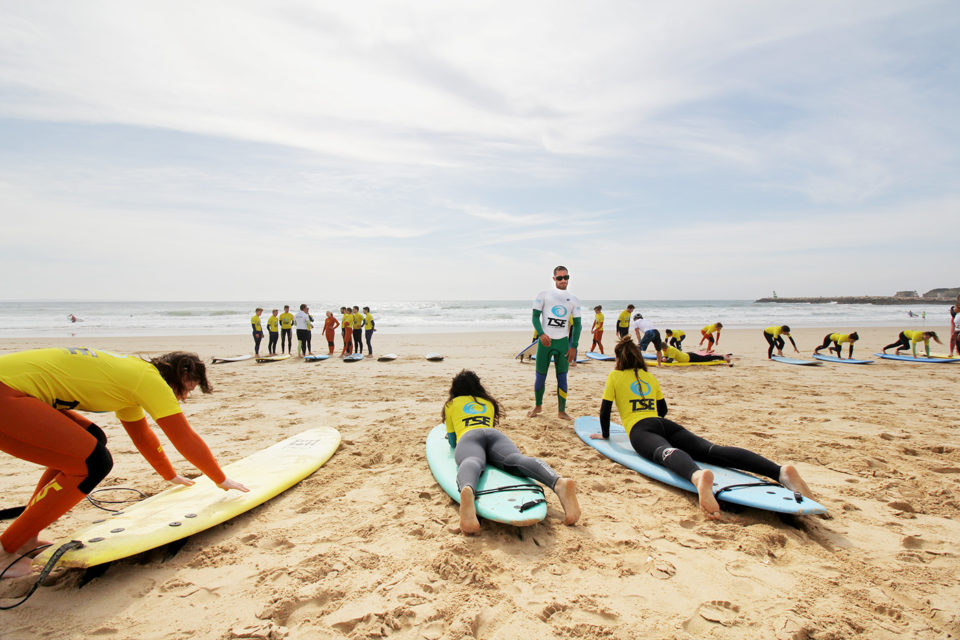 TSE Kids and Family Surf School 
Teaching kids since 1995 – together with our nanny, we make sure that your kids learn this new sport in a thrilling and empathic way. Making sure the whole family will have an amazing experience and lots of fun 
Do you have any questions?
You can arrive as well as join the surf course on any day of the week. If you are a first time guest, the check in time is 8am to 10pm. If you have stayed with us before, you can arrive any time you want.
In general, you and your surf instructors will leave after breakfast and drive to the best beach for the prevailing conditions (waves, wind, etc.). You will receive 3-4 hours of surf coaching plus extra time on the beach, and will be brought back to the camp in the afternoon/ evening.
Sorry, that is not possible. We have a photographer who will have a photographer that will accompany you and take pictures of you whilst you are surfing anyway. So you can concentrate and have fun while the photographer does the picture-taking for you.
On the day after the session, all images can be accessed via ShootProof. We allocate the pictures according to their date so you should be able to easily find your way through them.